The Front Page, or commonly known on Bitstrips as FP, is the main page you see once you join, or something
like the home page for Bitstrips. There is also a bunch of randomly selected comics from your friends shown, which usually if not always changes between clicks to and from the front page.
The front page also has many more cool features, such as the Theme of the day, and, for those who joined, a bar that shows what you and your friends have been up to, called My News.
But, how do I get there?
Edit
Well, at almost every page you go on Bitstrips, there are yellow tabs, like in the picture on the left. If you click on one of them you go to a genre, your profile, or page one (Front Page). If you click the one on the farthest left, you go to the Front Page. Also, if you click the logo on the top left, that will take you to Front Page as well.
Can a flagged strip get onto the front page?
Edit
If you are a Bitstrips user that allows himself/herself to read flagged strips, then yes, a flagged strip will be able to appear on the front page. If you are not logged in, or have set your settings to where you are not able to read flagged strips, the next strip in place for FP will show up for you.
As of 2012, if your account's age is not 16+, a mature comic will be randomly selected and put on the front page, along with other miscellaneous strips, but upon clicking on it, the error.png page will appear. 
Newest revisions
Edit
On June 12th, 2013, the devs removed the news (not newsfeed), Editorial, and every challenge except the theme of the day. As well as that, the newsfeed got bigger and the Theme Of The Day got moved to the right hand side.
How does the front page work?
Edit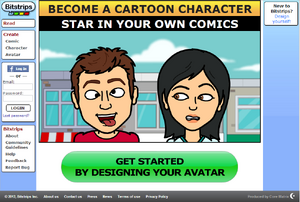 Before an update in 2011, the comics on the front page were based on high ratings, and from anyone, friends or not. Now, the comics are randomly selected from comics your friends have made, and usually are less than a month old, depending on your amount of friends.
External links
Edit
Ad blocker interference detected!
Wikia is a free-to-use site that makes money from advertising. We have a modified experience for viewers using ad blockers

Wikia is not accessible if you've made further modifications. Remove the custom ad blocker rule(s) and the page will load as expected.