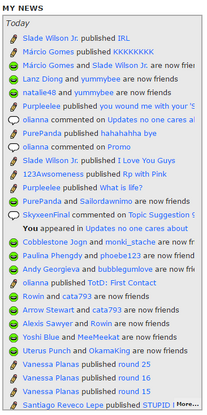 The newsfeed is a default feature on the front page of Bitstrips. It tells you the whereabouts of your friends, and any ratings or comments on your comic(s).
Accessing the newsfeed
Edit
The news feed can be accessed through the front page, or main page, of Bitstrips. Here you can track all of your favourites, who favourited your comic, when someone buddies someone else or yourself, when someone comments on your comics, and when your friends publish a comic. It is very helpful for Bitstrippers as they can learn about what is happening amungst their friends. However, it only goes so far as to yesterday, 2 days or more, depending on the amount of news filling up each day.
Every now and then there are glitches with the news feed. It gets backed up and nobody's news feed updates, showing outdated information. This glitch is usually fixed within 6 hours of it starting.
After a day or so, all notices about other people (published comics, befriending) will disappear.
Ad blocker interference detected!
Wikia is a free-to-use site that makes money from advertising. We have a modified experience for viewers using ad blockers

Wikia is not accessible if you've made further modifications. Remove the custom ad blocker rule(s) and the page will load as expected.